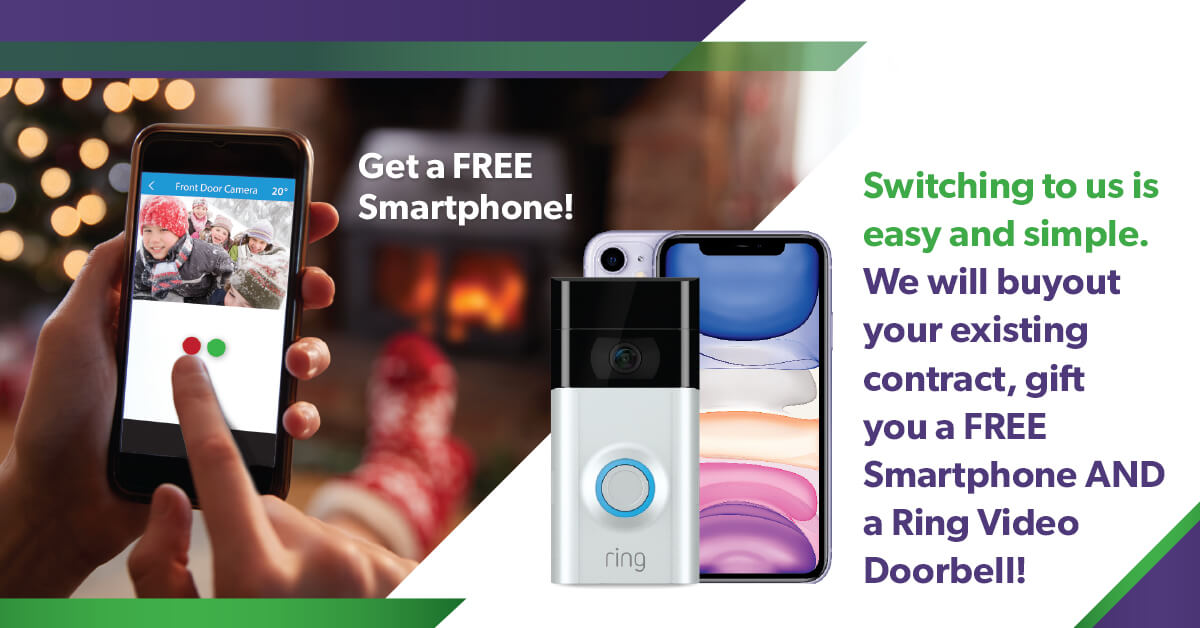 Switching to Nex-Tech Wireless is easy and simple. We will buyout your existing contract, give you a FREE Smartphone AND a Ring Video Doorbell!
Ready to make the switch?
Visit any Nex-Tech Wireless location and bring your current phone and a copy of your most recent bill. We'll take a look at your bill and set you up on the best plan for your needs. Then we'll swap your current smartphone for an NTW Smartphone at no cost. You can pick from a number of devices which include the brand new iPhone 11 and the Samsung Galaxy S10e!
PLUS - if you port in your number from another carrier you'll get a Ring Video Doorbell!
Still in contract with your old provider? Don't worry! We will buyout your existing contract too!
Already a customer?
You can get a FREE Smartphone too! Bring in your old smartphone, make sure it's unregistered from iCloud or Android Device, then pick out your new smartphone!
Certain restrictions apply:
*Free phone valued at $749 retail or less. Phone Guard and 30 Month Freedom agreement with an Unlimited Plan required. Taxes due at sale based upon full retail value. Requires trade in of Smartphone. Old device must be unlocked, if device is not unlocked a $200 charge will be applied to customer's account. Contract Buyout value up to $350. Free doorbell will be delivered up to 3 billing cycles after activation date, if account is in good standing. With qualified credit and/or auto-pay a customer may receive their doorbell sooner. Must meet payment requirements within 6 months in order to receive the free doorbell. Limit one Ring doorbell per account.