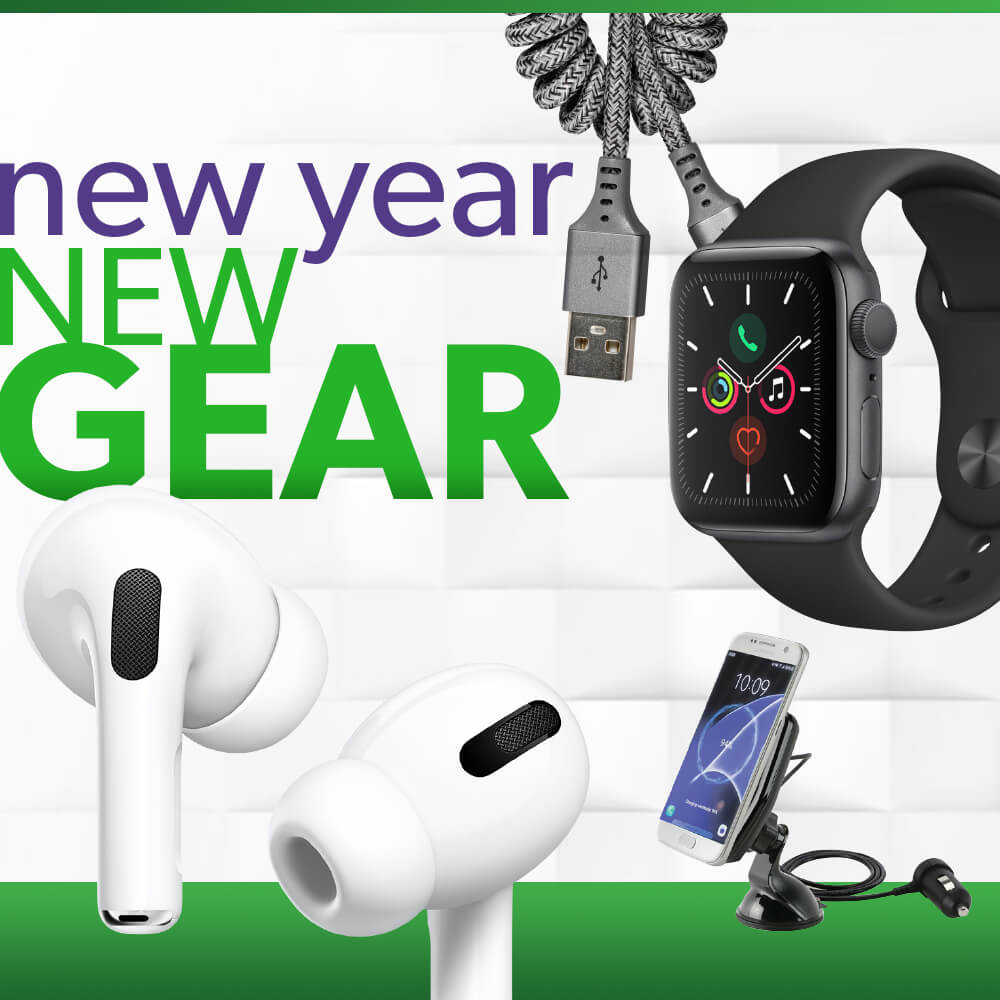 It's a new year so check out all of our new gear and our employees favorite apps!
New Gear
M-Edge Power Disc Apple Watch Charger
$15.99

Ventev Watch Dock Duo
$49.99
Apple Watch Series 5 GPS 40MM
$399.00
Apps for the New Year
Instant Pot


Instant Pot's were a huge hit this holiday season! if you received one be sure to download the official app for iPhone and Android. The official Instant Pot app features an ever-growing database of nearly 1,000 recipes. Learn useful tips and tricks like how to cook popular foods including eggs, rice and chicken! Mason - our Product & Inventory Assistant uses this app to set reminders for flipping food and timers for when food is done.

Shortcuts for iPhone


Jarrett, one of our Customer Care Reps loves the Shortcuts app for iPhone. Shortcuts deliver a quick way to get things done with your apps with just a tap or by asking Siri. The Shortcuts app enables you to create personal shortcuts with multiple steps from your favorite apps. Start from hundreds of examples in the Gallery or drag and drop to create your own!

Marco Polo


Marco Polo combines the best of texting, social media and video chats - all in one private, easy to use app. Jarrett also recommended this app because it is an easy to use video communication app and has special filters for the look of videos and funny voice filters are available. Marco Polo is designed for your closest friends and family with maximum privacy features. Available on iPhone and Android.

HappyScale


Was losing weight one of your new years resolutions? Check out HappyScale for iPhone to help you stay on track! Dieting is hard but when you work hard, hop on the scale, and see a number that's higher than yesterday? We'll, that's just not fair! Brenda, one of our Billing Analysts loves this app because it smooths out your daily scale weights and makes insightful predictions about when you'll hit your goals.

1 Second Everyday


1 Second Everyday is a video diary that makes it easy to take your day-to-day moments and create a meaningful movie of your life! It's a home for all your notable memories, not just the Insta-worth. Our Sales Manager Eian loves this app because it creates an awesome video that sums up your entire year! What better way to save all of your memories? Available on iPhone and Android.

Flixster


Are you a movie buff? Our Billing Supervisor Dane is and he loves the Flixster app for iPhone and Android. Stay in the know with the latest movie news, discover movies at home, browse Rotten Tomatoes scores and find the latest showtimes at your local theater with Flixster. You can even purchase your tickets on the app and scan your Mobile Ticket when you arrive at the theater!