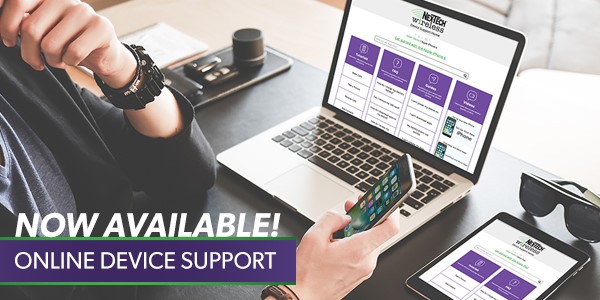 Have questions about your new device? Check out our interactive device support!
To access our complete device support site follow the steps below:
1. visit our website: www.nex-techwireless.com
2. click Support in the top right corner
3. select Device Support
You'll then see two different ways to navigate the site, by Device or from Support home.
Device support is available for all of the latest handsets including the iPhone X, Samsung Galaxy S9 and for Apple iOS 11. You can view a full user manual, features, technical specs and popular tutorials for every device. Troubleshooting guides and videos are also available!
If you have a specific question just type it in the search bar under Professional Support.
Our online Device Support site is continually being updated with our newest devices and software!
If you still have questions about your device please contact our Customer Care team:
1-877-621-2600
611 from your NTW phone
or via Live Chat (green bar on left side of website)