I am a MAJOR book worm, and I use everything I can to get my book fix. From picking up a paper book at the local library, diving into another chapter on my phone, or reading the entire book in a couple hours on my Kindle (this is the norm), I do it all. So in honor of National Library Week, I'm going to share my favorite audio and e-book app, OverDrive.
OverDrive is the go-to for library apps, and it totally makes sense, because it's amazing! So why stray away from that? It gives you access to your library, at home. And as much as I love visiting our local library, I love that I can just hop online, download the book, and put it on a device I already take everywhere with me.
Here's how it works:

Download the OverDrive app. This is available for all Android, Amazon, and iOS devices.
Sign in or sign up.

When signing up, you have 2 options. Either sign in using your library card, or through Facebook. I chose to sign up using Facebook, which only requires your email and password. The app doesn't allow Facebook to post on your behalf about the app, so I was thrilled.

Once you've signed in, click Add a Library. Here you can either search for your local library by name, or city. Be sure to only select the libraries you currently hold a card at.
Once your library is selected, click Add a Title. This will take you to the library's online library, Sunflower eLibrary.

You can search for books based on title, author, series, etc.

Once you've found the book you wish to borrow, click the book, and two options will appear: Borrow and Sample (If the title isn't currently available, you will see Hold instead of Borrow). You should then be able to download the book on any of the devices shown in the drop down menu.
After the title has downloaded, it will appear in your OverDrive app, ready to read! You can organize your books by title, most recent, or by expiration date.
When the title is due, it will immediately become unavailable to read on your device, so you don't have to worry about those late fees!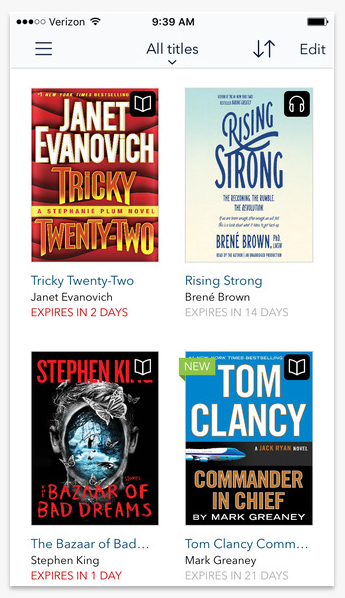 There are many other amazing features in this app, so be sure to check them out! OverDrive is perfect for those avid readers like me, or for those that only pick up the occasional book! So get your nose in a book, and Happy National Library Week!